tips aren't listed in any particular order.
5 tips to hosting a great party
1.) Timing Is Key
Christmas is a very busy time of year so ask your guests for a few days they are free to ensure you achieve the turnout you want.
Ask for 3 dates for your preferred guests.
Confirm a date with your guests list
2.) Have A Hot Coco Bar
This will for sure wow your guests and also give your event the perfect holiday feel.
Organize your table
Set out marshmellows
Place a jar of candy canes
Use a chalk board for decor
Or if you aren't in the mood for any of this (hire OmegaPartyZone). We love setting up our hot coco bars! 
"This is How you do it"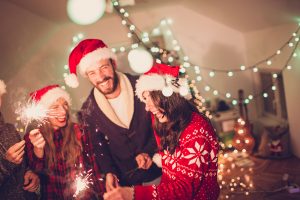 "Eat, talk, laugh, sleep. Now that's a party!
OmegaPartyZone
3.) Wear Ugly Sweaters
This brings in a fun atmosphere to your party and allows everyone to break down that initial wall and become social with other party goers they may not already know. Plus it's great for pictures.
4.) Play Some Games
Everyone loves a good game, so give your guess what they want! You can pick teams and break pair those that may not know each other on the same team. Try some of the old school and new classics and watch the good times roll!
5.) Have A Gift Exchange
Who doesn't like to get a gift! Before your party, inform everyone to bring a wrapped gift and then have your exchange. You can do it secret santa style, or spice it up where people can "steal" each others gifts. There are lots of ways to make this part of the evening a blast!