get value, style & safety!

Sleep Over Packages Include:
* Waterproof Mattress Protectors
* String Lights or Night Light
Note: General room decor will include tent decoration, flooring and misc. decor pieces throughout the sleep over space to give an overall representation of the desired theme!
The health and safety of your children and guests are extremely important. We take great care in the handling of our props and package contents to safeguard your household. Below are just a few ways we work to keep your family and friends safe:
1. Tents: All tents poles are covered with floor protector as to not damage your floors and prevents tents from sliding and secured with weight to prevent falling during event.
2. Mattresses – Non slip pads are placed under all mattresses, to prevent movement!
3. Lighting – All lights are battery operated, eliminating possible electrical hazards.
4. Linens – All pillow covers, sheets/blankets are professionally cleaned after each event.
5. Rugs – Are vacuumed, sprayed with antibacterial spray and cleaned after each rental.
6. Pillows – For safety, all sleeping pillows are provided by guests. General decor pillows will be provided by Omega Party Zone.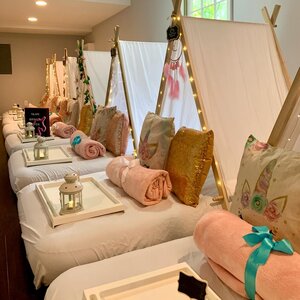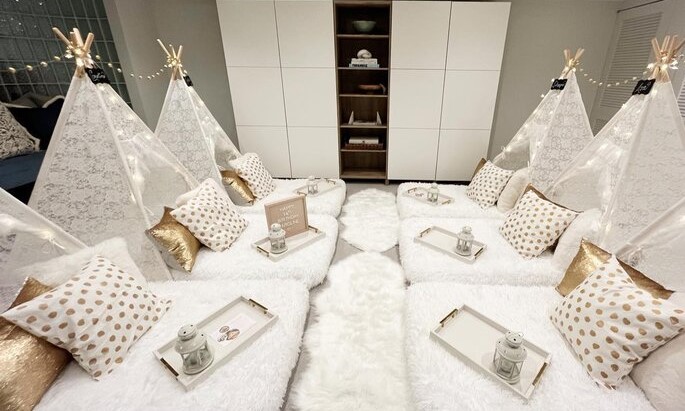 Frequently Asked Questions
Yes! This is our DIY option where we'll package all contents that are included in your sleep over package and deliver them to your door!
From there, you'll unpackage and set up all items as your wish. Once the sleep over is done, simply place all items as they were when they were delivered and one of our representatives will pick up at a pre-determined time.
Set up is approximately 4 hours and tear down are approximately 2 hours. Depending on complexity of theme, these time frames could be more or less.
Yes! We love giving our customers the chance to personalize items. Any theme you'd like we can create just for you!
Have More Questions? We'd Love To Hear From You! Contact Us